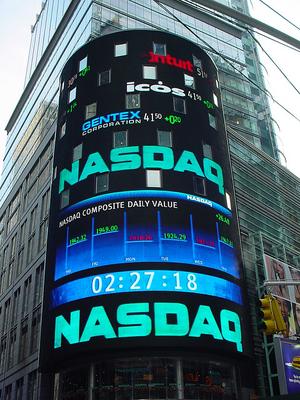 Everyone liked the candlestick video so much I thought I'd point out another cool video that makes a good point about how to look at things simply. Those who've been reading my technical analysis basics series can tell that I'm a fan of simple chart analysis. This video gives a great example of looking at trends with an eye for a solid trendline, and using other tools for confirming data.
Given several other indicators of broader economic welfare, most potently the money supply, I've got a bit of a bearish feel already. The NASDAQ in particular has been a bit overzealous in it's climb and seems a possibility for an appealing short. Looking at the trendlines in this video you can see some compelling indications that it may be time to start closing out longs at a bare minimum. Of course the evidence has mounted since this video was made and it was a good opportunity to make some money, or at least save some.
It's also pretty striking to look at the kind of climb we've had without any significant retracement. Even if it's only a short-term dip, there could very well be some money making opportunities here. I never rush in when fighting the trend long-term, but if you've been long you've made quite a bit of money and you should at least take a look and see if there's evidence that the tide might be turning.